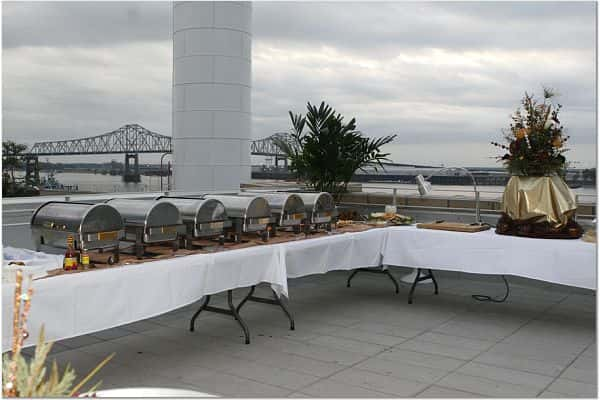 Atchafalaya Room
Atchafalaya Room
Room Rental Policies
1. The rental contract must be filled out completely and returned to Bayou Bistro, in person or by fax or email. Our Catering Manager or Restaurant Manager will contact you to confirm the reservations and finalize the menu and event details.
2. Rental fees for room rental, set-up, linens and clean up:
Up to 35 people $125.00
36-75 people $50.00
3. Rental Fees must be paid in full for the event to be booked and placed on our calendar.
4. All Rental Fees are non-refundable.
5. We do not allow separate checks for a sit-down meal event.
6. Buffet Service Events are to be paid with one bill on the day of the event.
7. A gratuity charge of 20% will be charged to all payments.
8. The menu and guest count for your event will have to be finalized no later than a week prior to your event. If less than 75% of your confirmed headcount does not attend, you will be charged a labor fee of $100.00 to cover the cost of the scheduled staff.
9. The room will be set up and available for decorating if needed 3 hours prior to the scheduled time of the event. All tables will be covered linens. No decorations are allowed to be placed on walls or doors.
10. Our maximum capacity for a seated meal is 50 guests and our maximum capacity for a reception or party without 100% seating is 75 guests.